Pate and I ventured out to our last Steve
Rother
clinic together. We had a great time. After two days and 18 hours of training, we are exhausted!
In this clinic, we went into all three classes per day, Foundation (groundwork), Horsemanship (riding portion) and Liberty (off leash work, as I like to call it). We ran through all the basics again, worked obstacles in hand, worked obstacles riding, jumped, and practiced trotting and cantering in a large group of horses. He was exposed to a new trailer, several more hours of riding in a trailer, a new barn, another indoor arena, an outdoor arena, of sorts, with rough footing, lots of distractions and he slept in a round pen with another mustang. Later in the evening, we were able to show off the liberty routine that we will use if we are chosen to come back as one of the top 15 horses at the event. He proved to be a great liberty horse, even with all the
distractions
of other horses in the arena. As you can see, he is becoming quite the jumper. He always clears the jumps by several feet! Jumping horse anyone?
We still have work to do, but as far as I am concerned, Pate is were I would want my horse to be after 60+ days of training. I hate to rush horses along, so if he isn't as refined as some of the others, oh well!

I am starting to get nervous about the event, but I am also starting to feel very sad, as I only have a few days left with a great horse that I have really bonded with for the last few months. Here are a few pictures that were taken during the weekend.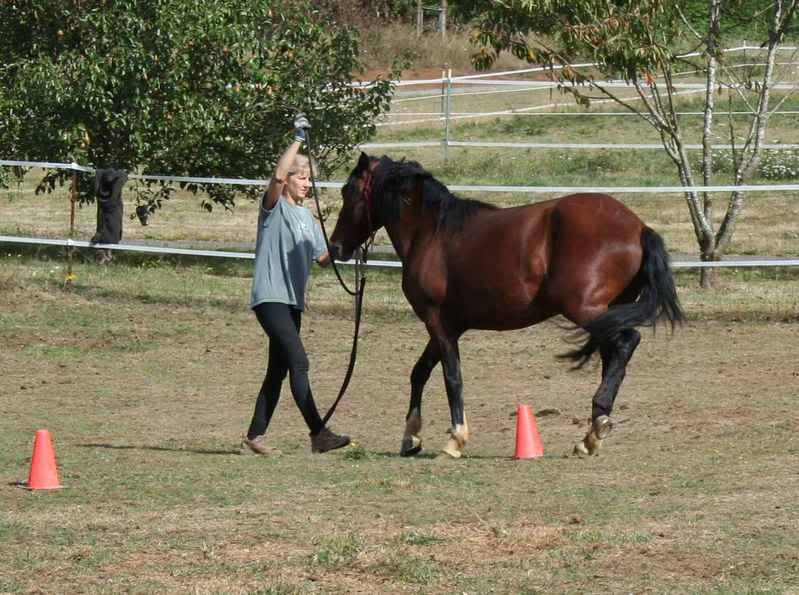 Backing without contact