When you don't get to actually train a mustang!!!
I'm sorry for the very long delay in updating Monty's progress. I lost a key employee two weeks ago at my business and now I am working overtime to keep ahead of the pile. While Monty has had some work the last few weeks, it's not as much as I had hoped. I am working a full day and training Monty at night, as best I can between rain squalls. Late at night, like between 10 and midnight!
As I was contemplating my dilemma at work, I realized that this is a great time to spend some time getting to know the person behind the competition. We are all hungrily reading every word that the trainers post about their horses leading up the events, but there really is more to the people behind these horses. Some of us have other hobbies (god forbid) and full time jobs outside of horses.
I thought I might take a few minutes to introduce myself. If this bores you, please feel free to skip to the next blog entry! But since this *IS* my blog, I can write just about anything I want. So there! At the risk of this sounding like a personal ad, here goes...
I am single, never married and I live about 40 minutes south east of Seattle in a town called
Auburn
, WA. Auburn is still a smallish town known mostly for our local thoroughbred race track,
Emerald Downs
and the old joke that women who come from Auburn all have big hair. Whatever..I've never seen it, but I've only lived here two years.
I am mostly a casual horse person, but I can get prissied up now and then and can even clean the dirt out from under my nails.
BMW banquet 2007
I own 4 dogs and 9 horses. All the loves of my life, however, two stand out from the crowd. Kindle, my 10 year old Pom and constant companion (who you may have met at the 2007 EMM) and Jedi, my 21 year old Arabian gelding.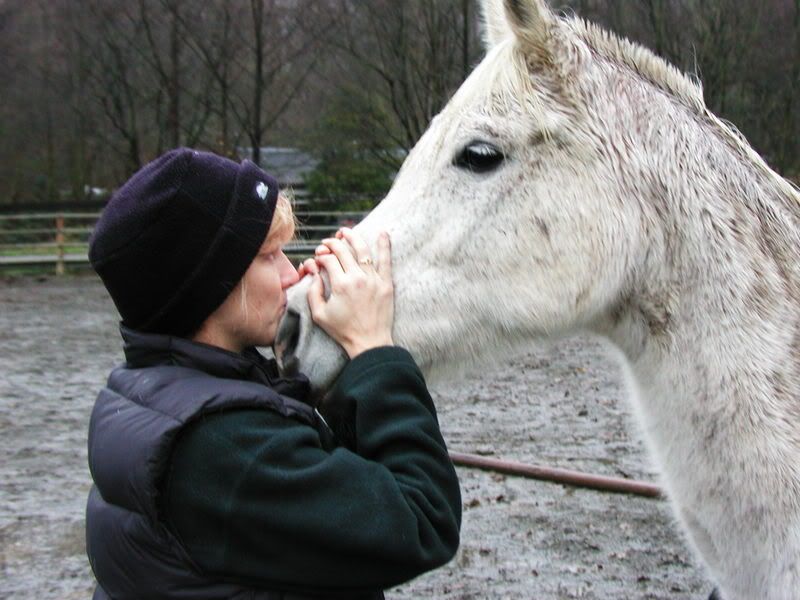 I grew up overseas in my younger years and in Westlake Village, California during high school. I went to college at
Cal Poly, San Luis Obispo
and graduate school in San Francisco (USF). I lived in San Fran for 11 years before moving to Washington in 1998. I have a degree in Industrial Technology with a minor in CAD/CAM and a Masters in Business Administration.
I started riding when I was 13. After begging my parents for years to ride, I was finally able to take English riding lessons. I was hooked!! I started out in hunter/jumpers taking lessons at the world famous
Foxfield Riding Club
. I showed throughout junior high and high school. I was jumping 4'-9" and eventing at the pre-lim level until I went away to college. My eventing horse was a Foxfield school horse named Tara. She had a propensity for spooking at the ditches and coffin jumps. Needless to say, I became more enamored with Dressage after seeing the bottom of those obstacles, over and over again!!
I showed Dressage consistently for about 12 years, both on Jedi and several other warmblood horses. While I still compete in Dressage, I also cross train, in a sense. I discovered team penning and ranch sorting!!
While ropes and I do not get along, chasing cows and working as a team caught me. For years, I penned in my dressage saddle and hard hat, much to the chagrin of my compatriots. "You are going to fall off of that horse!" Uh, I don't think so. I had a darn good seat and never had any trouble sticking. I won the respect of many a cowpoke after that. In fact, it wasn't until last year that I bought my first western saddle. I still cant figure out how to keep from hooking my shirts on the horn when dismounting. I actually had to have a cowpoke save me last summer at a sorting event, when I was hanging on my horn with my feet 6 inches off the ground!! The cowpokes laughed then!! Why did I switch gear? I STILL wear my helmet though. You wont catch me without one. Good training begets a good habit.
My life outside horses includes two main categories, work and cars.
I own a professional drafting services organization called
Midpoint CAD, LLC
. We provide drafting services locally and nation wide, to companies that either do not have any drafting staff or are in an overcapacity situation. Basically, we produce construction drawings for architects, engineers, & general contractors. We have been in business for 15 years and are always looking for good drafters, as well as, well, more WORK!
So if you know anyone looking for drafting help, let them know. (shameless plug). Up until two weeks ago, I had a Production Manager that helped run the inside of the business. Sigh.. Oh, and we also have an opening for a Production Manager!



My other hobby of choice is high performance driving and BMW's. While I have always been into horses, I caught the car bug, more specifically, the high performance car bug, about 7 years ago, when I joined the
BMW Car Club of the Puget Sound
and signed up for my first high performance driving school. I was hooked!
Like a drug, I was sucked into improving my driving skills and learning all about car control. Driving schools are held in a controlled environment, usually at a race track or motorsports park and you are provided with excellent instructors. We teach all the important skills that every driver should know. Stuff they do not teach you in drivers ed. It's not all about driving fast, it's about car control, such as, accident avoidance, skid control, threshold breaking and the dynamics of steering and throttle input in precarious situations. These driving schools can lead to more advanced driving skills, such as full race course track driving and eventually, wheel to wheel racing.

Thunderhill Park - Willows, CA
I have driven some of the best tracks on the West Coast and have reached speeds in excess of 140 mph. Slow, by Nascar standards. Fast by four door family sedan standards!!



Laguna Seca - Monterey, CA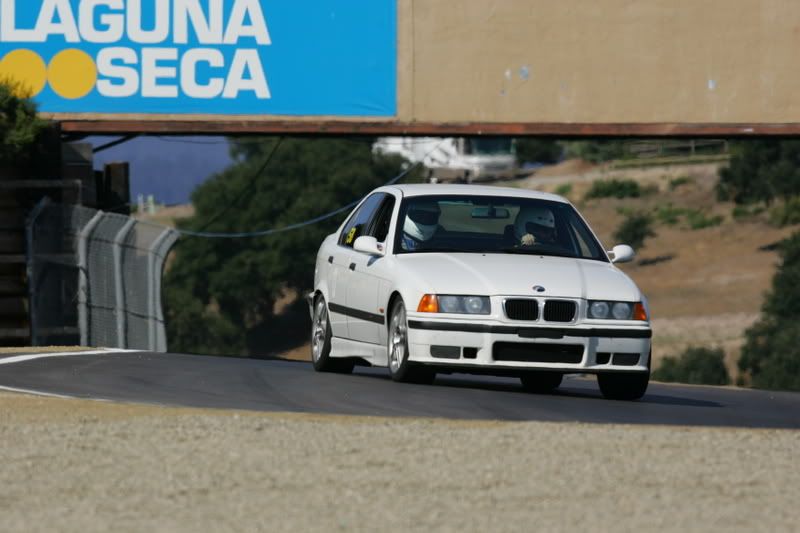 I signed up for my first school in February 1999. By the end of that first season (February - October), I had taken another 23 driving schools. Did I say I was hooked?



California Speedway, Fontana, CA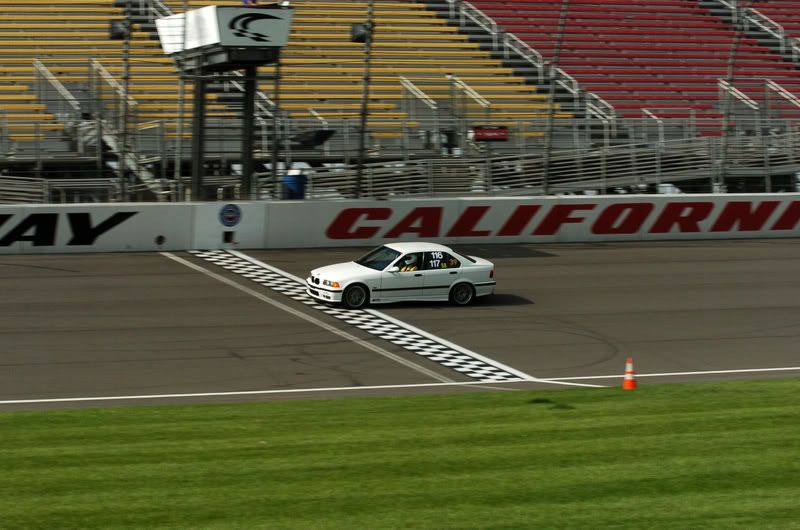 The second year I attended 18 schools, the following, 12. By the beginning of my fourth year of driving, I was invited to be an instructor. I taught others the art of high performance driving for about three years. If you want to learn more about high performance driving or want to take a driving school, contact your local BMW Car Club Chapter and they will point you in the right direction. You do not need a BMW to do these schools, either. Any old car will do. Monster trucks..well not so much.


It was then I got hooked by the American Mustang. The horse..not the car!!! So back into horses I went, hook, line and sinker...
My personal mustangs - obligatory Mustang content!! :)


My first Mustang(s) was actually a mom and baby pair, River and Tucker. I went down to the BLM corrals two years ago with a friend, whom I thought was *CRAZY* at the time. He had always wanted a mustang and I was dragged along as the conformation consultant. I spotted this pair and I had to have them.
Then, I received word that a buckskin pinto was available on reassignment. After I saw pictures of him, I HAD to have him!! Canyon had "people" issues and "rope" issues. Actually, they were just trust issues, but let's not tell his old owners that.

You all know Patriot from last years Extreme Mustang Makeover. If not, his story begins
here
.
I absolutely had to have him, too!!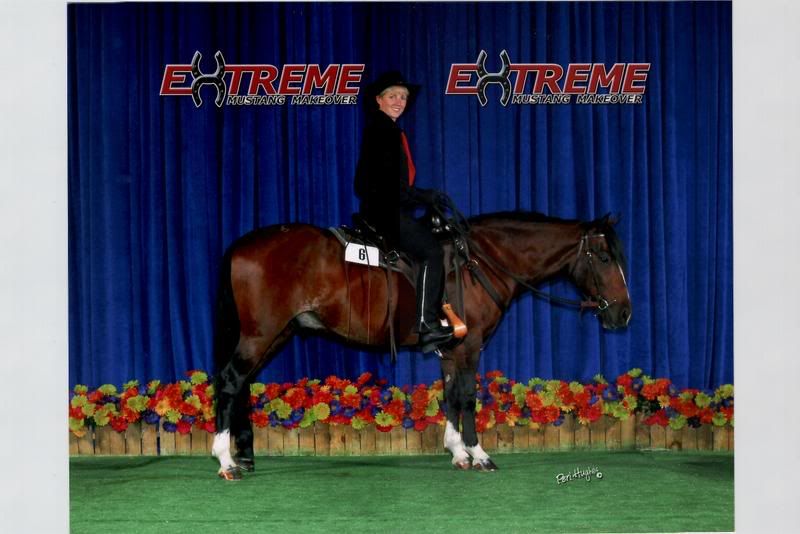 Finally, my last mustang is Montana. He's a seven year old stallion from the Beaty's Butte HMA. He was gathered in August. It's taken some time, but I can touch him every where except his legs and head. He's coming around. I definately had to have him as well!!
Montana at the corrals in November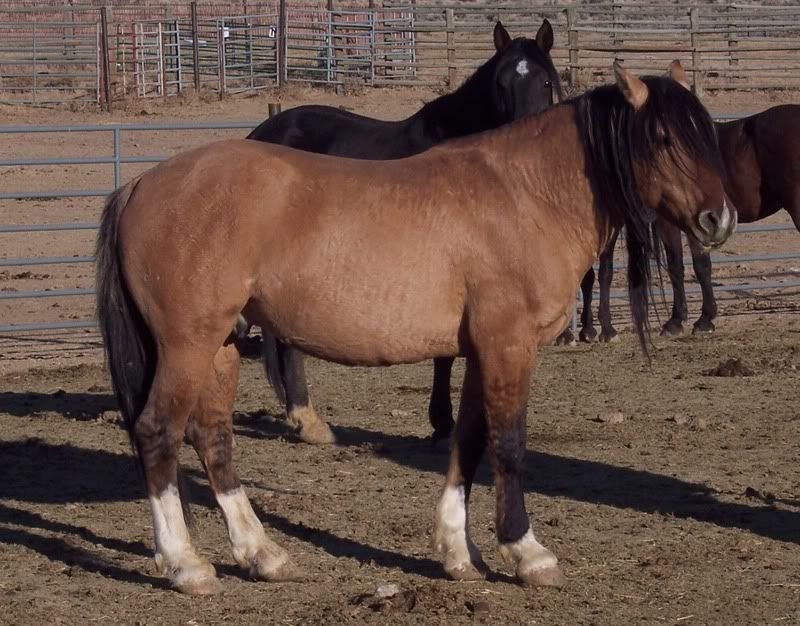 Can someone say "Stick a fork in me, I'm done!" What a fatty!
Montana last Saturday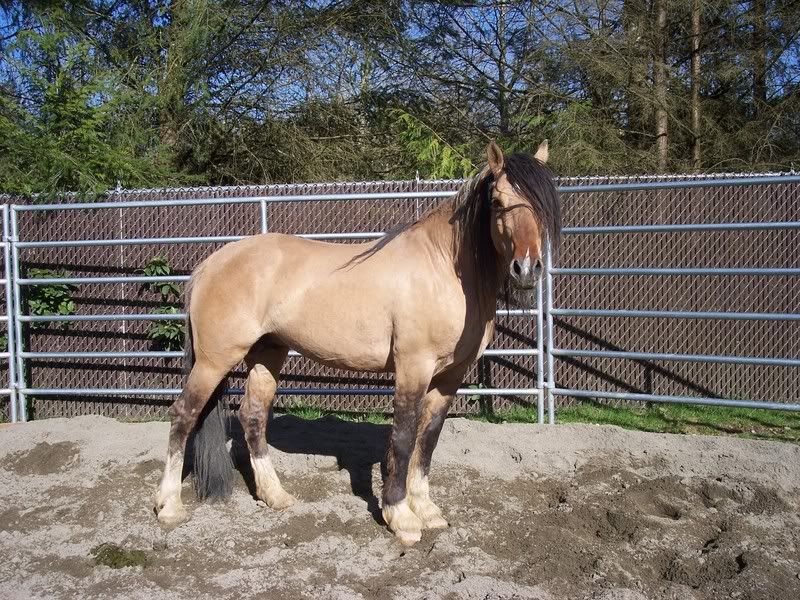 And with that..let's turn back to Monty's story...