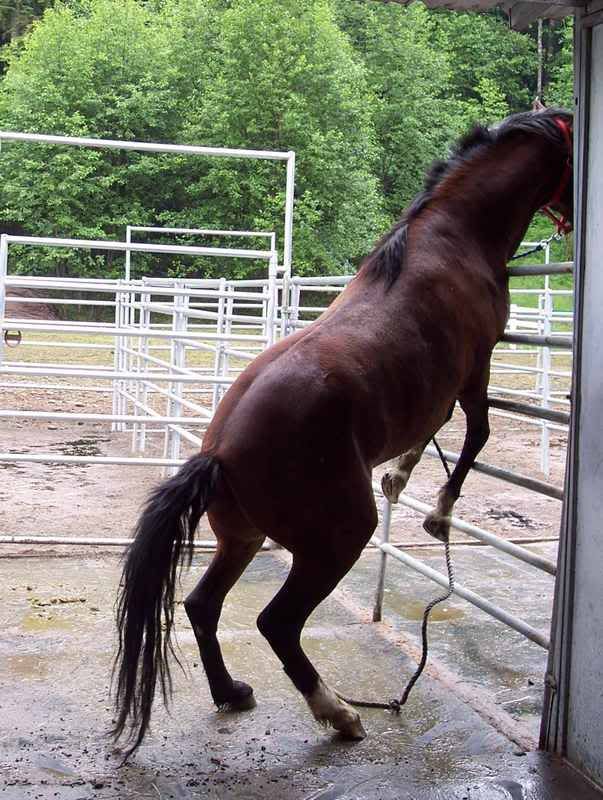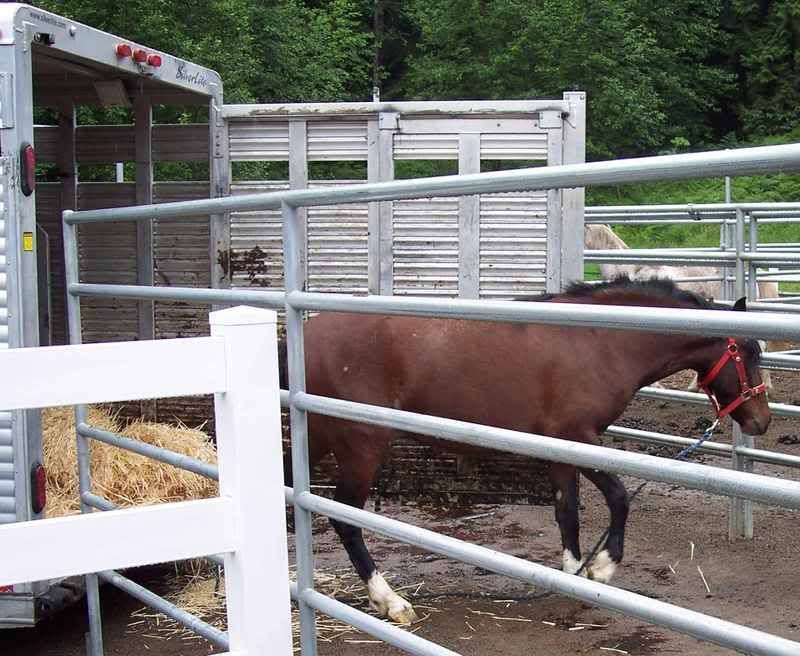 It's two hours before my big 40
th
Birthday Bash. 80 people are about to show up at my farm to help me celebrate. I am at the grocery store buying last minute goods and lots AND lots of ice. Weird since it's pouring buckets and I am freezing. I get a call from the hauler. "I'm at your gate, and he's ready to get out!" Oh, man! I tell my Auntie Gail, "We have to hurry!" "Oh, and it's a BOY!" Yippee! I was hoping for a gelding!
We rush home. Wayne backs the trailer up to the pen and warns me. "He's been pretty frantic until I loaded a mare with him". Great! Turns out, my little boy was a full fledged man until right before he came home to me. No wonder he's frantic. His only experience with humans has, so far been a bad one. The trailer positioned, Wayne opens the gate. At first, no movement. Then, out he comes! We carefully
shoosh
him into his pen and close the door.
Wow! He's small, maybe 14 hands, only four years old. He is a bay roan with three white socks and a white streak down his nose. He has not lacked for food, as he sports a big old hay belly and has quite the
cresty
neck. He has cut his face pretty good somewhere along the line and has a trickle of blood running down his nose. He's really freaked out and tries to leap the 6' fence 4 times. You can hear the voice in his head, "I must escape!" He realizes that he cannot get out and starts pacing. Pacing that continues through the night and well into the next two days.
I feel sorry for the little guy. His paper work says he was born in captivity, four years ago, at the Palomino Valley Corrals. He has known only captivity, yet the panels, people, and noises scare the hell out of him. I hope that he will settle down, eventually. I
murmur
to him that everything will be alright, and go back to preparing for my party.