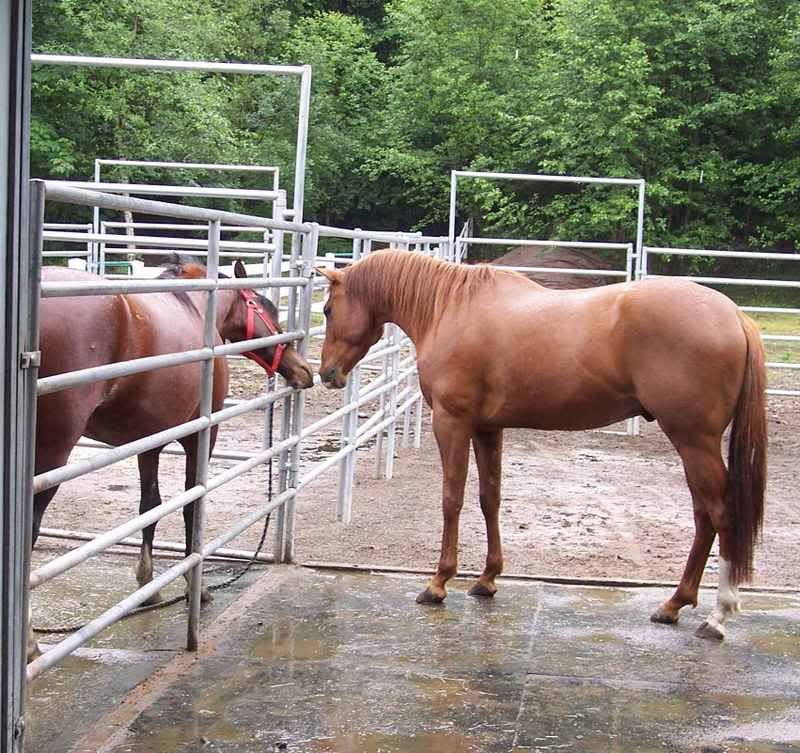 It's Monday. He's finally stopped pacing. I enter the pen next door where his new best friend "
Tai
" lives. I lean against the adjoining panel and play with
Tai
.
Tai
is busy molesting me for carrots and cookies. I pay no attention to the new arrival, but can see from the corner of my eye that he is very interested in what I am doing. I can also see that his gash is pretty bad. I tell myself that I need to get some salve on that cut. After a short while, he approaches. Ever so cautiously, he sniffs my arm, then my hand. I reach slowly for his nose and he holds his ground and let's me touch it. I gently scratch his nose and under his
chin
remembering how yesterday, he would bolt at the sound of a kiss, but chuckle at how he tried to "taste" the muck rake. He's going to be
ok
! Now, I need a name. Majestic? Streak, after the stripe down his nose? I will let time tell me his new name.