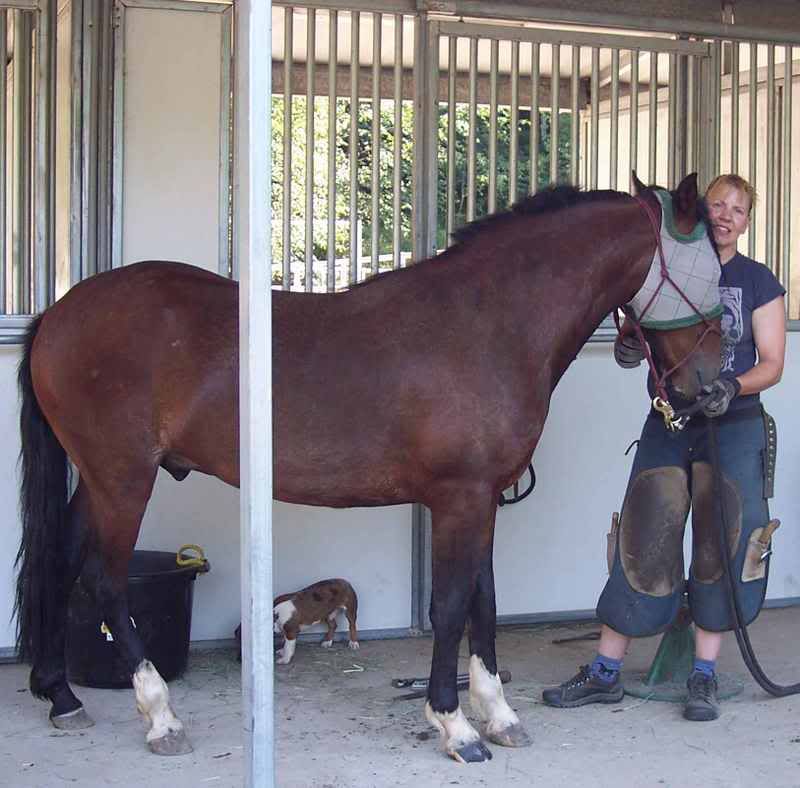 Well, after much soaking, no abscess has come about. Pate's feet are fairly flat and short, so it might just be that he has tender feet on the gravel. Highly unusual for a mustang, as they have pretty hard feet. But Pate was born in captivity, so maybe he has not developed the hard feet mustangs are known for. Up until now, he has been on either rubber mats or sand. So both the vet and the farrier decided that it might be best for Pate to wear shoes to help with his soreness. Melinda, my ever patient farrier, worked with Pate to make his first trimming and shoeing a pleasant experience. He was a very good boy. I was able to drop the lead rope on several occasions to take pictures. Sorry Melinda, but I was capturing your best side! :)
The shoes seem to be helping, as he is walking sound now. I was planning to take him camping with me over the weekend, but Dr. G. suggested I leave him home. I did not want to sore him up too much out on the rough terrain, so I agreed.
You can see from these pictures, that his face is healing up well!