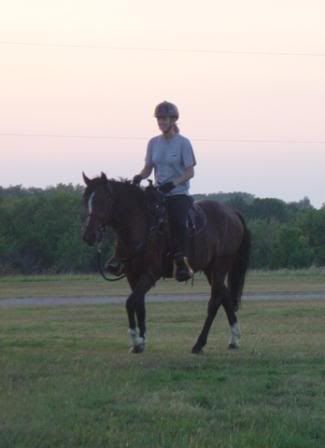 Well, we have made it to our last destination, Oklahoma City, OK, before dropping down into Texas. We were told not to arrive at Will Rogers Center before 8 am on Thursday, so we are hanging out at one last overnight stop.
I wanted to send out a very special Thank you to Jaime and Cleve of
Cross Country Boarding
in Augusta, KS. Pate and Chance stayed at their very nice facility last night. I highly recommend this facility to our fellow horse travelers! Jaime, we really appreciate your generous donation of our overnight fee! We will be back again next year!

Since our last few days traveling have been short, we have had a fair bit of time to ride and play. We took some time this morning in Kansas to school more water and I worked with Pate and a tarp.
Vixen and I are so glad to have taken this time with our horses. We have seen much of the back roads of the USA, passed through or visited 8 states and have enjoyed getting to know each other. We are also excited to say that we have ridden our mustangs in 5 different states in as many days! Our boys are getting quite the passport!
We are only two days away from the final event. Once we arrive in Texas tom morrow, we will have two days to school in the actual arena that we are showing in on Saturday. This event is actually MUCH bigger than I had originally imagined. The trainers have a media party on Friday night and we are getting wind of a trade show for shopping at the event. The final trainer count is 82 participating trainers and horses. Wish us luck as we try to make the top ten.