Patriot, my resting nomad
People have asked if the reason I am so quiet on this blog is because I don't want potential bidders knowing how great Monty is. Well, I know for a fact that blogs tend to make these horses more expensive. And I would LOVE to keep him for myself. But, the real reason is that I have been devoting my spare time to working with Monty not blogging. I'm sorry for the delay.
The grass is here! But the cold weather remains.

Monty and I are doing well and we are having a great time. He has to be one of the nicest horses I have ever had the privilege to work with. You all know how much I love Patriot. Don't tell him that Monty has a better mind and a much nicer body! His trainability is excellent and he handles change very well.


My good looking boy


I have so much to tell you but have so little time these days. I'm doing my best to ride and work Monty every day. We have gone trail riding several times both with a group and solo. He does excellent by himself. Other than that little fit he threw on our first trail ride, he has had no other herd bound tendancies. He IS at the top of the herd ranking system at my house, so he could really care less about his barn mates.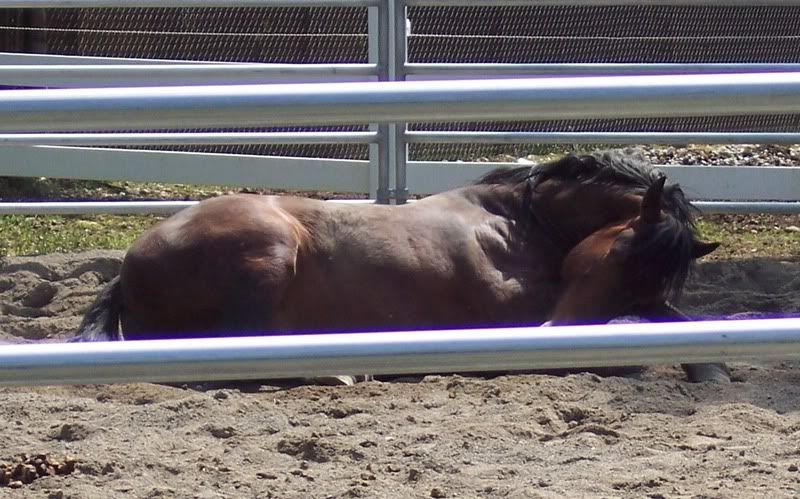 Rolling in the round pen
I have also used him for lessons and taught newbies how to train wild ones. He is an excellent school horse. He tries very hard to understand commands given by greenies and never takes advantage. He has had 5 new people ride him in the last two weeks alone. Abbey, had never been on a horse in her life. Now she can say that her very first ride was on a wild mustang! Needless to say, she is now horse crazy!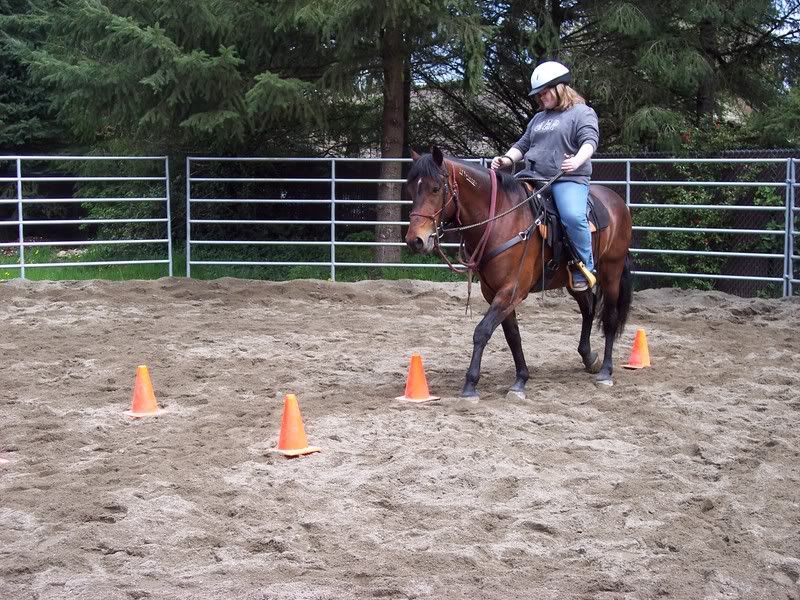 Ashley negotiating the cones


Abbey's first ever ride on a horse
Abbey is hooked!
Monica from the Seattle PI taking a spin


His confidence makes him excellent for flagging colts. He is helping me train my stallion, Montana. He and Montana are neighbors. I think they have little conversations during the night, as Montana is coming around quicker by the day. I think Monty is letting him know that I'm not so bad.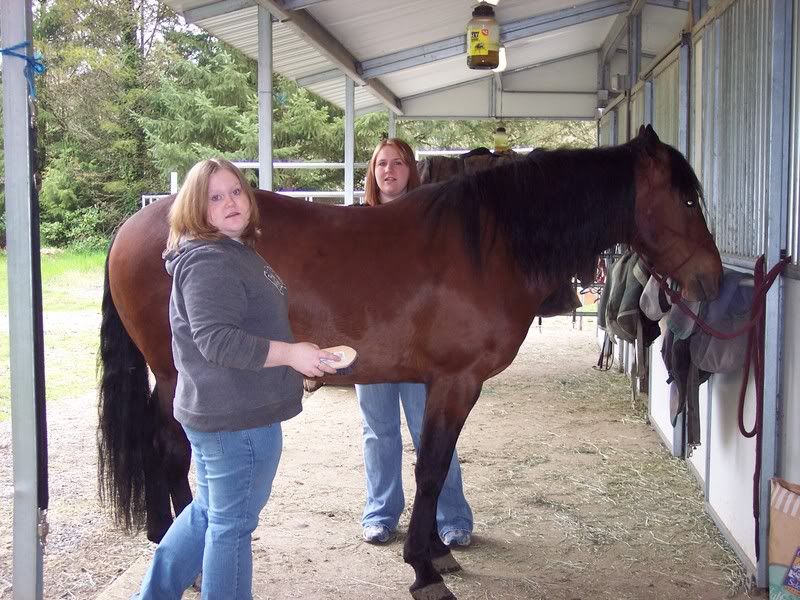 Ashley and Abbey grooming Monty
Monty and I will be attending Ride the West in Spokane next weekend. We have been invited to ride in the evening Spirit of the West show and help with the BLM wild mustang adoption. We are also signed up to compete in the Extreme Trail Challenge. It's a trail course on steroids! While Monty only has a few dozen rides on him, we are going to give it a go. It will be excellent exposure and far more than what they will ask of us in California. Mostly, it's for the practise and to see how he handles the pressure. It's as close as we are going to get to Cal Expo up here in the Northwest. We will meet up with fellow competitors Tracey Westbury and Charles Wilhelm with their mustangs and hang out with Susan Kirk. Susan competed with me in last years Extreme Mustang Makeover. Looking forward to seeing you guys!
More soon. I promise!!