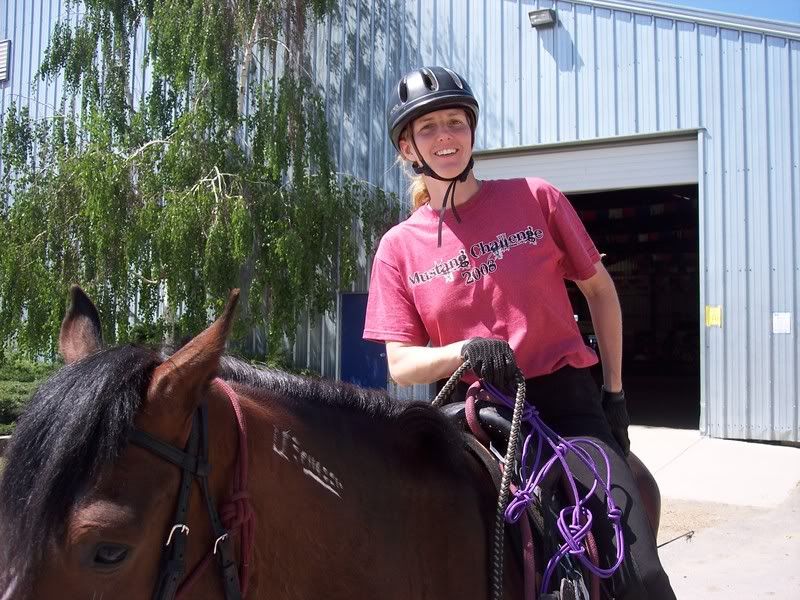 Last weekend, Monty and I packed up to head to Spokane for
Ride the West.
We ended up leaving town late Friday night, due to my work schedule, but landed in Spokane at about 8:30 pm. Just in time to see
Susan Kirk
do her presentation with Mac of EMM fame, during the evening festivities. I unloaded Monty and immediately started walking him around the fairgrounds. It was a prime opportunity to introduce him to loud speakers, crowds, all kinds of pedestrians, horses, carts, vendors, golf carts and general chaos! I introduced myself to
Charles Wilhelm
and asked about his mustang. I was disappointed to find that he had not brought her to the event. We met several nice people that asked all kinds of questions about the big bodied mustang hanging around the in gate. Even though he had not been in any environment like it, he handled it with ease. He amazed even me, as I explained to the crowd that he was a wild horse 68 days ago!
We met up with the troupe from the
Border Patrol
, all riding BLM mustangs!! They invited me to ride with them in the evening presentation!! Our first night started off with a bang!! He did great and never once spooked! I then rode in the darkened outdoor arena for about 40 minutes. I settled him into his stall and headed to the hotel about midnight.
Saturday morning started early getting ready for our shot at the
X-treme Trail Challenge.
I attended the morning walk-through of the course, carefully planning out my route. I knew that Monty was not going to get the lope and flying lead change so I planned ahead for an alternate performance. I also knew that I was going to be slow and steady, carefully introducing him to the obstacles and not rushing him. We had a 6 minute time limit and I hoped to complete as many obstacles as I could. I was not sure how he would handle the cows, but hoped he would be similar to Patriot and not bat an eye. Many thanks to
Tracey Westbury
, a fellow WSMC, competitor for filming the historic event!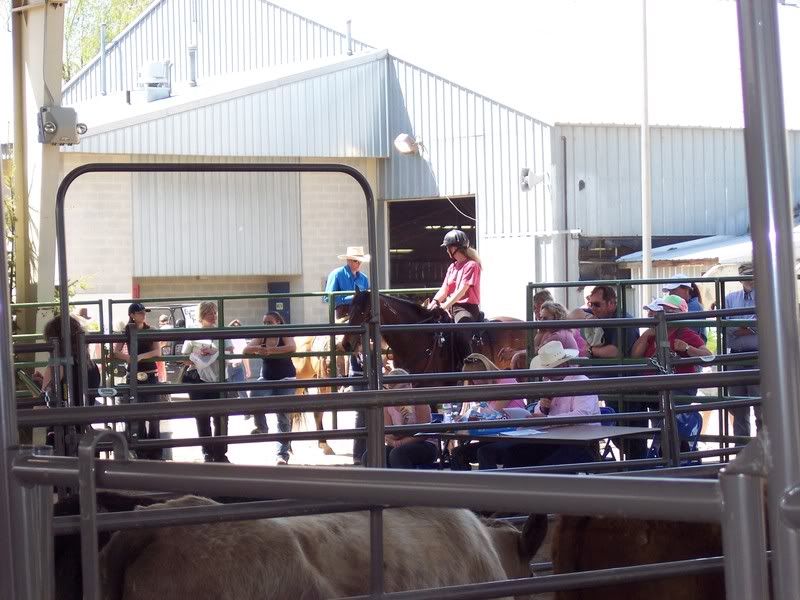 At the in gate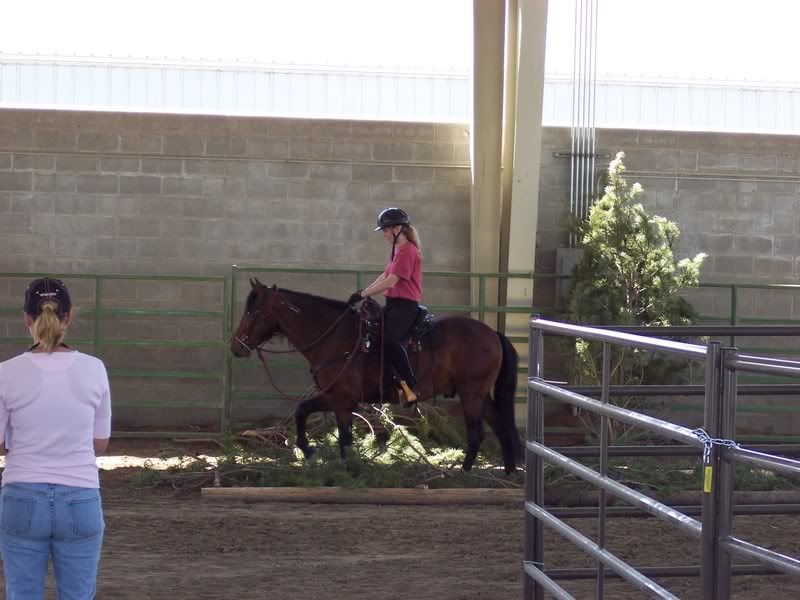 Brush walk-over
Water crossing
Bridge
Once again, I am amazed by this incredible horse. Take a look at the video to see for yourself.
He did great for a horse with less than 90 days of training. His score was a respectable 78 out of 110. We did not get to complete the last two obstacles (ran out of time), we skipped the mound of precarious dirt between the water entries and got a zero on the gate. A zero is still a good score. You get a zero if you execute the obstacle. You can get 3 extra credit points and negative 5 penalty points per obstacle. We zeroed the gate because it FELL OVER on us as we went through it! LOL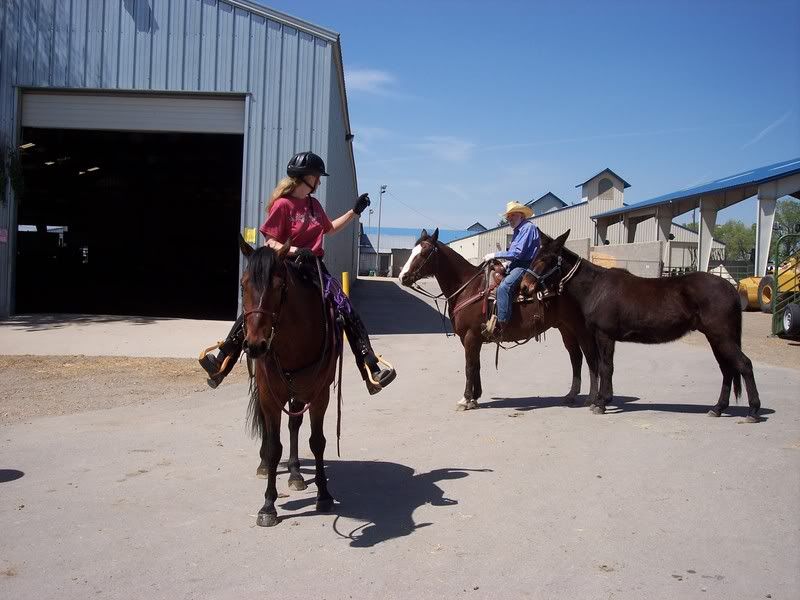 After the course, we headed over to the BLM adoption area and met up with Ramona from the Burns corrals. I offered to let her take spin on Monty around the grounds. She took me up on it. When they disappeared around the corner I commented, "Um, Monty has never been out of sight from me yet. I wonder how he'll do??" They reappeared and all was well.
I asked Tracey to show me Sandy! What a cutie. He was content to hang with the other mustangs, pretending he was still wild. Faker!
I put Monty away for a few hours while I wandered the show and vendor halls. It was announced that
Doug and Kathy Vouchell
were giving a "Problem Solving" riding clinic at 6:30 pm for $40 and there were spots available. I jumped at the chance and tacked up Monty for a ride. Our problem? None really, baby horse, let's work on forward and shoulder control! Monty impressed me and the crowd, for his good nature and how far we had come in a few rides. Doug and Kathy wished me good luck in Sacramento and told me "You'll do great!"
I rode around the grounds, introducing Monty to more people and general fairground paraphernalia. I was standing there with 6 people surrounding and petting Monty when Charles Wilhelm drove by in his golf cart. He shouted in jest, "Are you trying to make me look bad?" "Yep!" I said. "It's working!" A funny exchanged between competitors. I put Monty up for the night and fell into bed around midnight.
Sunday was a lazy day. I slept in and arrived at the fairgrounds around ten. I left Monty to eat his breakfast while I did some shopping. I realized that I own just about everything a horse person needs, so I spent very little. I guess I am saving myself for Sacramento!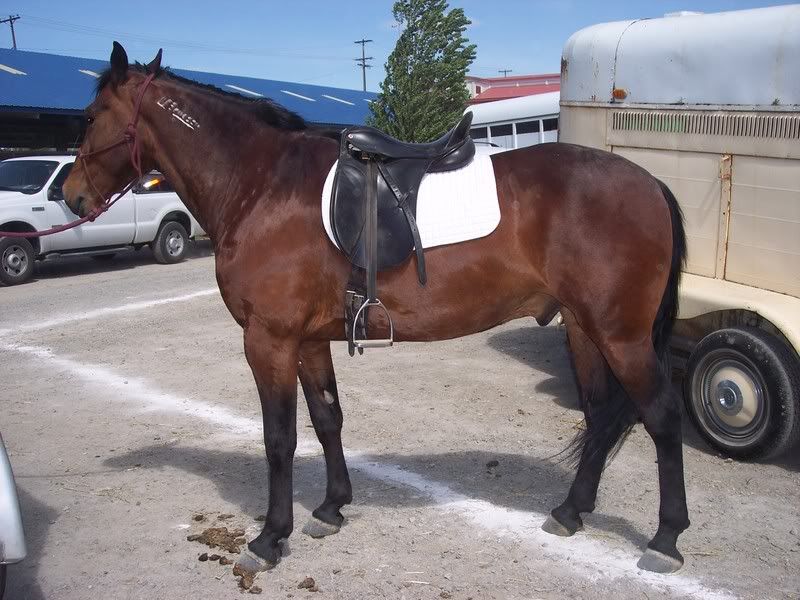 I decided to tack Monty up in my Dressage saddle, just to see what he would look like. Not bad, if I say so myself! We headed over to the BLM area and asked a few volunteers for some help. I needed another person to man the metronome while I trotted Monty around the round pen. I am on the search for a song with his trot tempo and I didn't know what that tempo was! It's 140 beats per minute, just in case you were wondering. He then spent the next hour tied to the round pen while I chatted with potential Mustang adopters. Several people came by to pet him while he dozed in the sun.
Later, we again wandered around the fairgrounds, meeting more people and seeing more sights. At one point I decided I needed lemonade. Imagine the sight of a mustang with his head inside the vendor booth licking lemons. You get the picture. How many people stopped me from leaving to take one more picture? Lots! It was right about this time that Charles showed up again. "I hope you win!" he said. "I'll do my best!"
We headed over to the X-treme Trail Challenge Finals to watch fellow WSMC trainer
Keith Danielson
compete on a clients horse. He had made the top twelve spots. Very cute horse, lucky owner. They did very well. Keith did not bring his horse, Tina, either. Again, I was disappointed.
Monty stood quietly for about an hour while I watch the finals. He was surrounded by a crowd, but he dozed peacefully. After that, we packed up and headed home. It was a great time and Monty was fabulous! I am kicking myself for not carrying my camera everywhere. I had so many great photo opportunities with Monty in all sorts of situations that would boggle the mind of most horses!