So, I am going to go back, to the week before last weekend..uh, I mean, 12 days ago?? Uh, whatever, I mean, before now...
Once again, Monica Bretherton, from the
Seattle Post Intelligencer
came by to see my newest wild child for my latest Wild Child Event, du jour. :) This time, I told her to bring her riding clothes, 'cuz she was going to get to ride Monty!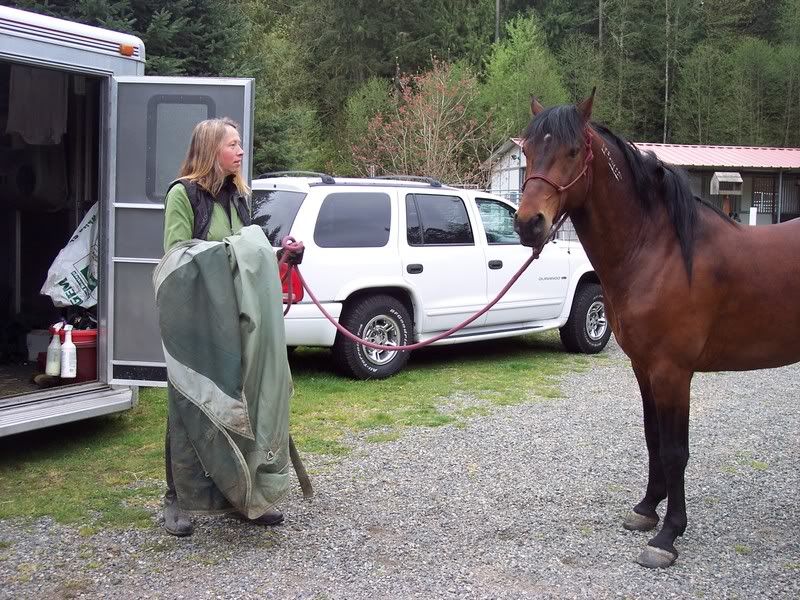 She complied and came all dressed up to ride "English"! Now, I'm not surprised, since she knows I ride English, but little did she know that today she was going cowgirl! lol
She ended up staying several hours. You know when grrls get to chattin' about horses, you are in for a long day. I was happy she was able to stay for so long, because I was really in need of a ground crew. I was preparing for
Ride the West
and I needed to practise a few of the obstacles that we would have to negotiate.

After jointly brushing and tacking him up, I showed her his trailer loading expertise. We moved into the round pen and we showed off his tricks and skills.
At Ride the West, I was competing in the
X-treme Trail Challenge.
It's a trail course that was going to test Monty's trust in me and his ability to handle pressure. But I also knew from last year, that there were going to be a few obstacles needing a bit of an introduction before tackling them on the big day.
Dragging a pole, carrying a tarp, moving a bucket from one place to another, opening a mailbox, moving a bucket filled with rocks, pushing cows, opening and closing a gate, entering water, pushing a ball, backing through and side passing over poles were all possibilities.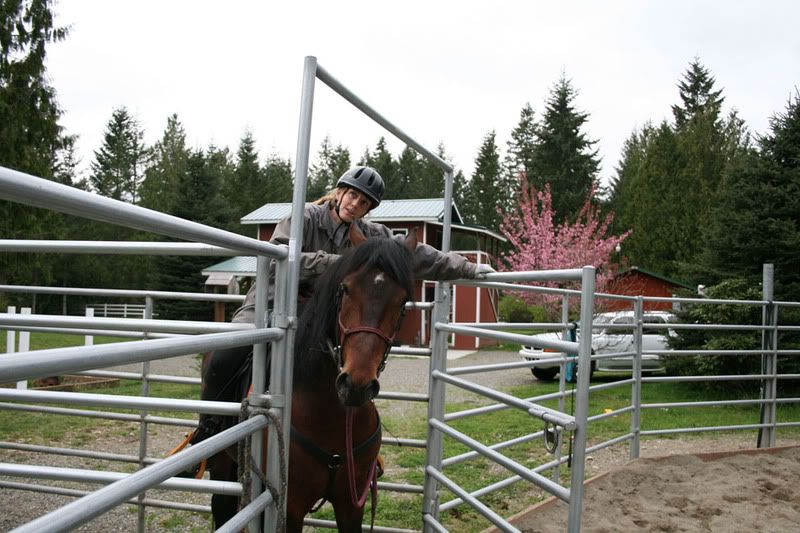 I don't own cows, so that was out. But I was able to set up most of the other scenarios. With Monica's help, we introduced Monty to many of the tasks that he would face.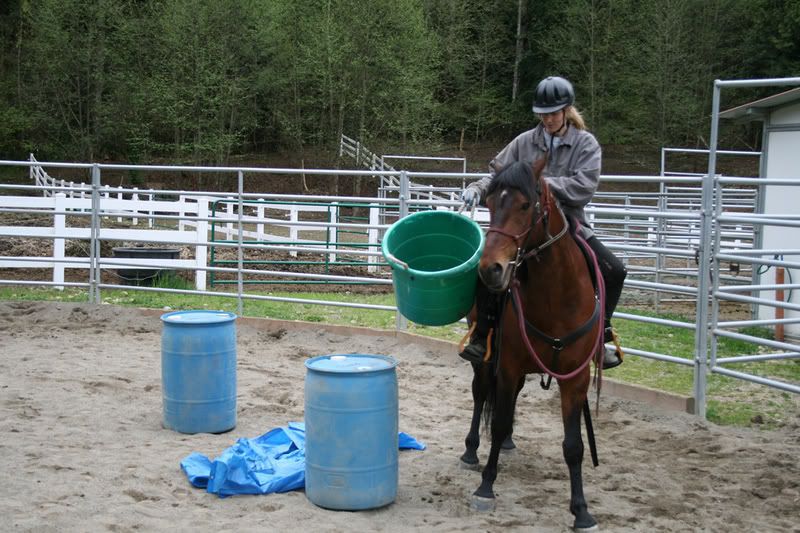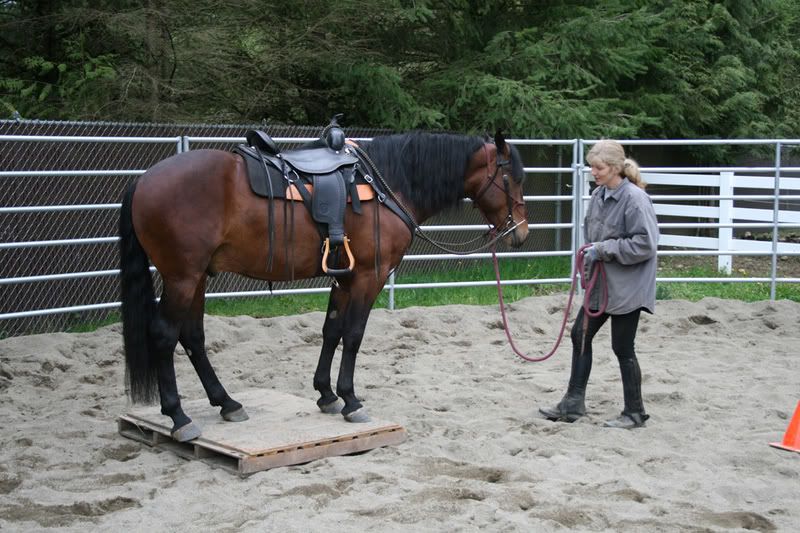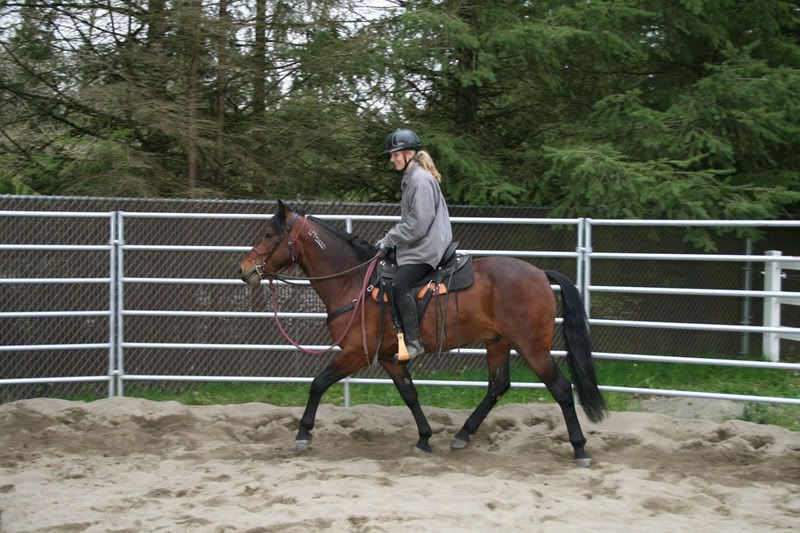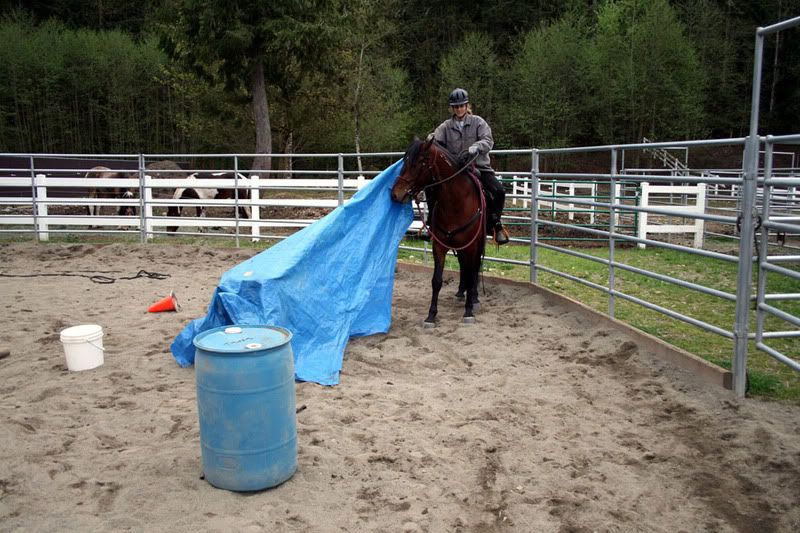 Then, it was Monica's turn! A few quick ground work exercises to establish trust and she climbed aboard. She struggled with what to do with her long legs! We had adjusted my stirrups, but not enough. Eventually, she just dropped them, as Monty has a trot as smooth as silk. No need for stirrups!
She did a great job and Monty did too! Thanks Monica for coming out. I had a great time!
If you want to read the article she wrote about her visit, click
here.